Visit us at our Retail Store!


Open by appointment

Text us at: 541-531-8212
---
Contact us to schedule the class of your choice today!

---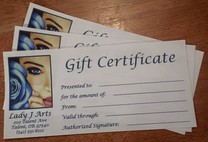 Gift Certificates available!

Yes, It's true, you can now purchase a gift certificate
at our retail store. Give the gift of Shopping!
For more information call: (541) 531-8212
---
---
---
FAQs:
Q: Is this really your own artwork or are you selling someone else's stuff?
A: All of the pieces pictured here and available for purchase on this website are Jessica's own creations.... The unique, one of a kind jewelry as well as the Fine Art Prints are all the work of her own two hands. Each piece lovingly designed and executed using various mediums.

Q: What is an 'Econo-Print' and why is it so incredibly affordable?
A: 'Econo-Prints' are a wonderful, cost-effective alternative to purchasing Gicl'ee Prints. We believe that everyone who falls in love with a piece of art should be able to possess it. Our 'Econo-Prints' are priced to facilitate that love. They are high quality laser prints that have a life expectancy of 25+ years before any distinguishable fading occurs.


Q: What is a Gicl'ee print and why would I spend more money to purchase one?
A: The word Gicl'ee (pronounced "zhee-clay") refers to a process of fine art printmaking. The quality of the Gicl'ee print rivals the quality of traditional printing processes. Reproductions using this technique are commonly found in art galleries and museums. Gicl'ee printing provides the highest quality fine art graphics with rich colors in the tradition of original stone lithography. They are coveted by collectors for their fidelity and quality. Printed on 100% cotton rag (no pulp) paper with archival pigment inks, Gicl'ees surpass customary prints in both quality and longevity. Fine art prints created using these materials and this particular process have been tested and proven to last 200+ years before any distinguishable fading occurs.
---
© Jessica Hope Prince. All rights reserved.